"Nucleon" is the collective name for neutrons and protons. They are the particles that make up the atomic nucleus. Up to the 1960s they were considered elementary particles, but are now known to be made from three quarks. Protons (P) are stable both inside the atomic nucleus, and when free. The nucleus of the basic hydrogen atom is a single proton with no neutrons. The nuclei of heavier hydrogen isotopes, deuterium and tritium, contain neutrons. All other atoms comprise two or more protons and various numbers of neutrons. Ernest Rutherford discovered the atomic nucleus in 1911, and went on to discover the proton in 1919.

Outside the nucleus of an atom, the neutron (N) decays, via the weak nuclear force (W- intermediate vector boson), into a proton, an electron (e-) and an electron antineutrino (Ve) with a half-life of approximately 14 minutes 46 seconds as shown in the diagram below right. It was described theoretically by Ernest Rutherford in 1920, and discovered by James Chadwick in 1932 at the University of Liverpool, UK.

The number of protons in the nucleus (atomic Number) defines the element to which an atom belongs. Differing numbers of neutrons define the different isotopes of that element.
Baryons - Nucleons (Protons & Neutrons)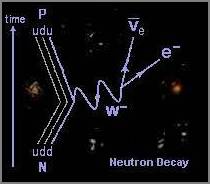 1st Generation
2nd Generation
3rd Generation
"Up"
Type Quarks
Up Quark
Mass: 1.87-2.15 MeV
Charge: 2/3
Spin: 1/2
ID: u, u
Charm Quark
Mass: 1.18-1.34 GeV
Charge: 2/3
Spin: 1/2
ID: c, c
Top Quark
Mass: 172.6-173.6 GeV
Charge: 2/3
Spin: 1/2
ID: t, t
"Down" Type Quarks

Down Quark
Mass: 4.63-4.95 MeV
Charge: -1/3
Spin: 1/2
ID: d, d
Strange Quark
Mass: 90-100 MeV
Charge: -1/3
Spin: 1/2
ID: s, s
Bottom Quark
Mass: 4.2 or 4.68 GeV
Charge: -1/3
Spin: 1/2
ID: b, b
Quark Summary (compiled from a number of different sources)

Physics
-
Composite Particles